School Etiquette

This School Etiquette page advocates standards of acceptable behaviour by children in various situations at school..
They must co-operate with and show respect for their teachers, all adults and the other children
Good discipline is a prerequisite of kids to enable school teachers to be able to teach a group of children the skills they will rely on for the rest of their lives.
If School Etiquette in its many aspects is not spelt out for them, how are they to know what the boundaries are?
To help kids we have provided some simple guidelines for them to follow (please see below).
It would help the education system immensely if children (including older students) arrived at school well disciplined, well mannered, obedient and respectful of adults.
This web site provides a few pages related to Kids Manners & Etiquette.

Without discipline and respect, teachers would have an unruly bunch of juveniles following their own agenda and there would be chaos.
Teach them the three R's before they get to school: Respect for self; Respect for others and to accept Responsibility for all their actions.
Children's lack of respect for adults shocks the older generation who were brought up under a much stricter regime.
They fear that standards of behaviour in today's generation have slipped below acceptable limits.
Examples of this are clearly seen everyday on TV, the streets, public transport and wherever young people gather in numbers.
A lot of this behaviour is learnt from watching adults' behaviour on TV and further reinforced by the behaviour of their own parents. The kids are simply emulating this deplorable adult conduct.
We therefore urge parents to please take charge and be better role models for your kids to learn from.
We suggest that you establish at least the following two rules:
1. They must always be home before dark
2. They must finish high school at least
To reinforce your good example and values you would do well to:
1. Have them join the Cub Scouts, Scouts or Girl Guides at an early age and continuously until they are old enough for the next step
2. Have them join the Cadets with any arm of the Defence Forces as soon as they are old enough to do so, until they leave high school
3. Encourage them to do a minimum term in one of the armed forces when they leave high school.
They will emerge all the better for it with greater confidence, sense of responsibility and be well disciplined.
See what Bill Gates has to say on our page Advice to Kids.

The psychology of child behaviour is beyond the scope of this site which is dedicated to setting high standards of manners and etiquette in schools and in all the many situations that children will find themselves in.
While different sets of rules apply in various school settings they all boil down to the basics of respecting the rights of each other; not doing only what they selfishly want to do, but doing what is expected of them and doing it with a good will.
The following suggestions of school etiquette are not exhaustive and we are sure you could expand on this considerably. If so, please tell us. But in the meantime, print it out and drill it into your kids for the sake of us all:
You are here to learn. This is your right and the right of the other kids. Teachers need your co-operation to help you and the other kids to learn well for your benefit.
You do not have the right to deprive the other kids of their rights
Be on time
Don't give cheek
Don't tell lies - to anyone
Don't answer back
Don't be noisy or disrupt the class
Co-operate with the other kids
Do immediately what the teacher asks you to do
Pay attention to the teacher
Don't talk while the teacher is talking
Don't snatch anything from anyone
Don't fight, pull, push or shove anyone. Save it for your organised activity such as Tae Kwon Do.
Don't steal from anyone
Never bite anyone
Pick up your own litter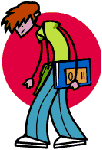 Walk tall and wear your uniform with pride. You are a representative of your school. Give a good account of yourself
No uniform? Abide by the school's dress code
Sloppy dress impresses nobody and is not cool!
Have fun by all means but not at the expense of any other kids. Keep it safe and happy for all by not throwing hard or sharp objects that could injure someone, possibly for life:



Don't fight, pull, push or shove anyone. Save it for your organised activity such as Tae Kwon Do.
Never bite anyone
Don't litter the playground
No bullying. It shows cowardice not courage. Courage is what you have when you take on unbeatable odds for a just cause
Watch for bullies and report them
Prevent bullying if you are able to
Similarly, don't gang up against anyone
Don't smoke or do drugs. It's gross and will slowly (sometimes quickly) damage your body
School Etiquette - Sports & Sports Field
Be competitive, play hard but play fair. Always remember that it's only an activity. To win by foul means is a hollow victory:
Do your best
Never get into a fight
Apologise immediately if you make a mistake
Accept an apology with goodwill
Don't spit on anyone, the grounds or anywhere
Be a good loser. Someone has to lose
Show good sportsmanship. It's only a game
You will remember and talk about these days for the rest of your life. Use them to develop your strength of character, your integrity, your knowledge and your skills to the best of your ability:
Be punctual
Obey the school rules
Pay attention to the teachers
Be respectful to the teachers and staff
Do immediately what you are directed to do
Do not answer back
Tell the truth - always. It takes courage to tell the truth. Cowards tell lies out of fear
Respect everyone's rights
Don't litter the school grounds
Don't mess the toilets. If you do, clean it up (see Toilet Etiquette)

Practice being well mannered
Don't bully. Prevent bullying. Report bullying
Don't litter the class room, school grounds or anywhere
Don't graffiti or vandalise property
Report graffiti offences being committed
Report acts of vandalism being committed
Be respectful of public and private property
Don't steal from anyone
School Etiquette – Public Transport
You are an ambassador of your school, especially if you are in school uniform, your behaviour must be exemplary. Transport officials and other passengers must not be disturbed or offended by your behaviour:
Be respectful to everyone, especially adults
No rowdiness, pushing, fighting or yelling
No foul language; no swearing
Always offer your seat to the elderly first, then to any other adult that is standing
Avoid obstructing doors and aisles. Step aside to allow passengers to pass without being asked to do so
Don't gang up on kids from other schools. Keep inter-school rivalry for organised inter-school competitions
Don't graffiti or vandalise public property anywhere
How confident are your senior students to face the world after they leave school? Do they have their direction yet?
Is it with hope and confidence to face the world with the expectation of a successful future?
They will need your guidance to learn responsibility and be helped through the process of selecting a career and pursuing it.
How much is that help worth? Hundreds of dollars? Thousands? Can't put a price on it?
Are your teenagers ready to launch themselves into a satisfying career of their own choice and gain an advantage over their peers.
Your kids need all the help and encouragement they can get to be motivated, confident and paying their own way.
They want to be financially independent.
Their parents want them to be financially independent.
What price financial security?

Your Comments Please
We would welcome your helpful comments and input through our interactive forum – School Etiquette.

We wish to maintain a high standard and to make these pages a valuable, straightforward, reliable and practical guide for students and teachers alike
Your own web page (or only be listed)
If your school does not have a web presence you are welcome to showcase your school on this site with a page of your own or only be listed to register your participation in the move to promote School Manners & Etiquette.
There is no charge for this because it adds momentum to our cause of promoting School Etiquette.
Simply create a profile of your school; include your motto or mission statement and articles written by students or teachers pertaining to the theme of this website.
Then submit the material using the form below and leave the rest to us.
If you already have a web site of your own, you are still welcome to showcase your school on this site with a page of your own placed on it by the same means.
Alternatively, please create a link to this page to convey your participation in the move to promote School Etiquette.

You may also be interested in...

Schools Listed

Table Manners for Children

Manners & Etiquette for Children

Kids Telephone Etiquette

Can't find what you are looking for? Try our Google Search below:
Back to our A to Z Guide