Bridal Shower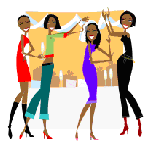 Bridal Shower Etiquette : Yes it seems as if there is an 'etiquette' for everything!
It does make life easier to know there is an order to things, a basic guideline of what is correct and considerate, and most importantly when it comes to families with traditions and customs - what will not appear to be offensive, neglectful or rude.
Firstly, let's have a think about this thing called a bridal shower or kitchen tea as it is called in some countries.
How did it come about?
Is it part and parcel of the wedding etiquette thing?

Legend has it, many years ago in Holland a young Dutch girl fell in love with a poor miller.
The young lady's family was wealthy and her father did not approve of her choice of future husband and refused to give her the customary bridal dowry.
He hoped this would put an end to ideas of marrying this poor man.
The young Dutch girl decided to take a risk and marry for love and not money and status.
When the townspeople heard what was happening they all got together and 'showered' the couple with all the necessities they would need to set up their home.
This became a new tradition in that town, and now it is a tradition that has spread to countries all over the world.
It has evolved and changed over the years, but the original idea still applies.
Bridal Shower - sometimes called ...
Now traditionally referred to as a Bridal Shower, but often referred to as a Kitchen Tea or Hen's Party. The invitations can use any of these terms.
What about bridal shower themes?
When choosing a theme for the wedding shower, select one that reflects the personality and interests of the bride.
It is after all her party!
The bride's friends may organize several different theme type parties where the women get together to have fun, sometimes to 'educate' the bride and to give practical advice and gifts for the new bride to set up her home with all the basic necessities required in a kitchen.
If this has already been organized as in the case of second time weddings, couples who have been living together or singles who may have set up home for some time on their own, then linen and lingerie party themes are quite common too.
Bridal Shower Costs ...
Traditionally, the maid or matron of honor hosts the party.
She also has to buy a gift for the bridal shower and partly foot the bill for the catering, invitations and surprises.
If the family wants to have something more elaborate, they then need to financially assist wherever possible.
It can be a costly exercise for the friends of the bride-to-be if they are invited to more than one of the parties.
Perhaps if you stick to the shower etiquette rule of inviting a person to only one of the showers - unless of course they particularly want to attend several.
Bridal Shower Etiquette - Who should host the party?
Traditionally the maid or matron of honor hosts the party.
Some experts state it is an absolute no-no for a family member to throw the bridal shower and other experts say the modern rule is more relaxed and the old rule can be ignored.
Perhaps it is best to consult with families involved in order to decide how closely you should follow any of the old rules.
A bridal shower rule that has not changed is that the bride never hosts her own bridal shower.
Some other changes to traditional bridal shower etiquette are:
1. The old rule stated bridal showers were not held for second time brides. This tradition has been disregarded
2. The old etiquette rule was that the shower was held only for the bride, her family and friends
3. It was often a very intimate, feminine celebration. However, today the participation of men has increased and we see more and more couple showers that honor both the bride and groom-to-be
4. Probably because of this, the Bachelorette Party is equally important as the bridal shower, and is planned and organized with greater participation and attention
Best venue for the bridal shower?
There is no formula in bridal shower etiquette that will give you a blueprint on venue, who to invite and how much to spend. This is entirely up to families involved, circumstance, time and also finances.
Depending on the circumstances the shower can be held in a family home, a restaurant, a hotel or even a convention center. This is a family decision.
If the family wants a very elaborate affair, then they need to assist the maid or matron of honor and also finance the function.
Showers should be fun, but they are most successful and enjoyable when they are planned with consideration and common sense.
If you hold the shower in a public place, you may wish to limit the more intimate gifts. Showing them around in a public place might embarrass the bride or other guests.
When is the right time to hold the bridal shower?
In traditional etiquette the shower should be a surprise and scheduled at least two weeks before the wedding ceremony.
This is not a hard and fast rule as in modern times the shower is held when it is convenient for all parties involved.
Because there can be several showers plus a Bachelorette party it will need to be spread over a reasonable time or the bride just won't be able to cope!
Bridal Shower Thank You cards
It is good etiquette generally to write a thank you card for each gift given at each event; Bridal shower, Engagement party, Bachelorette party, etc.
The cards should be sent soon after the gift is received.
This means you may be sending thank you notes before your wedding date.
Whatever the size of your wedding, always order a lot more thank you cards than you think you will need.
You can always use them later for any occasion when you need to thank people.
Bridal Shower Etiquette and the Wedding Party Participants
It is part of the etiquette to invite the wedding party participants to the bridal shower.
There is an etiquette rule that states they should bring a gift.
As they have so many other expenses relating to the wedding it can become a financial burden to the wedding party participants.
In Bridal Shower Etiquette generally this is how it works:
1. The following wedding party participants should be invited to the shower/s. They only have to purchase one gift, no matter how many showers they attend. (Anyone under the age of 16 does not have to purchase a gift - usually their mum will be attending and will be giving a gift anyway):
Mother of the bride
Mother of the groom
As well as step-mothers on both sides (this can be a sensitive area so make sure you check with the bride first)
Matron of Honor
Bridesmaids Flower Girl(s)
Best Man
Groomsmen or Ushers
Ring Bearer and Trainbearer
2. The bridal couple should at all times be aware of the costs involved and communicate openly with their helpers. If necessary, scale down or meet the expenses themselves.
Remember people want to participate, they want to give the couple the best.
However, they may feel embarrassed to say they cannot afford to buy the elaborate flower girl dress for the little girl, or the lovely blue satin shoes for the Matron of Honor etc.
Wedding Shower Invitation Etiquette
1. Anyone who is invited to the shower must also be invited to the wedding, aside from special circumstances such as a destination wedding.
2. Only invite those that are invited to the wedding. Exception: the office shower
3. It is never polite to invite the same guest to more than one shower
4. Don't forget to include the groom's family members
5. Sisters of the bride and groom are also generally invited to every bridal shower, but have the option of choosing to attend just one
6. The bride and hostess should work together to come up with the guest list for the bridal shower.
Numbers should be kept within the hostess' budget (brides, be respectful of their wishes!) and hostess' you should clearly set this limit from the beginning
Wedding Shower - Invitation Card Etiquette
You're not supposed to put gift registry information on your wedding invitation. It's left up to friends and family to inform everyone
However, you can put gift information on an insert in your bridal shower invitations
Several potential guests may live too far to travel for the shower, however they should be acknowledged with an invitation. They will appreciate the thought
If you cannot attend a bridal shower, there are varying opinions on whether or not you should still send a gift.
When in doubt, send one!
When to Return all Wedding Shower Gifts
All gifts, even shower gifts, must be returned if the wedding is cancelled or annulled before living together as a married couple
Invitation and Gift Registry Etiquette
1. The same rules that apply to addressing wedding invitations apply to shower invitations:
2. One invitation per guest (even if they live within the same household, unless 16 or under).
3. Hand address the invitations
4. Use the formal name of invitees (Mrs. Mary Brown, rather than Mary Brown)
5. Send invitations with at least a month of lead-time
6. Include an address and phone number for guests to call for directions and to RSVP to
7. You can include the bride's gift registry information printed or hand-written on the invitation.
Do not include the tacky cards that stores will give you to put in the invitations.
8. Many choose to include the store names in which the bride and groom are registered.
If you find this option ill-mannered, you may let the guests know by word-of-mouth.
9. If you are hosting a personal shower for the bride, spread the word about the bride's taste and clothing size.
Wedding Shower - Hosting Etiquette
Though you may know everyone at the shower, some people may know few people, or possibly no one
Be sure to have a 'greeter' stand post at the door to say hello to new arrivals
The greeter should tell guests where they can put their coat or belongings, their gift for the bride, and where they can find refreshments
The greeter can also make introductions if the guest is not acquainted with anyone
Games are not a required part of a bridal shower, however, they often serve the purpose of breaking the ice with a group of people that may not all know each other
Generally if games are played prizes are generally given out
Wedding Shower - Thank You Notes
Before the guests leave, be sure you have their names, addresses and the gift they brought listed so the bride may write thank you notes.
Thank you notes are absolutely required for each person you receive a gift from.
If several people share the cost of a gift, you must write each person a Thank You note.
Send the "Thank You" within a couple of weeks of the shower.
Don't forget an extra special thank you for the hostess of the shower.
Write the thank you on note cards with your maiden name on it.
Stationary with your married name, or you and your fiance's combined initials or names, can't be used until after the big day.
Finally, I have heard it said that it is rude for the hostess to ask the guests to write their name and address on an envelope at the shower, but I personally think this is a wonderful idea.
Also, if the hostess can delegate one of the wedding party (perhaps the 'greeter' to quietly make a note of who brought what, at least the bride will be able to refer to the gift in detail when she thanks the person.
The bride has a lot going on in her life and this little bit of help can save her a lot of time and stress as she will be addressing envelopes for thank you cards for the wedding gifts as well.
One great idea is to take the envelopes with the names and addresses on them and make it into a raffle for a prize. Pull one name out of the pile and give that person a favor.
People love to participate when there is a reward at the end.
Good luck and have fun!
If you have found this page helpful, please share it with your friends through this
You may also be interested in...

Wedding Invitation Etiquette

Engagement Party Etiquette

Engagement Ring Etiquette

Engagement Etiquette

Broken Engagement

Wedding Ceremony

Wedding Ceremony - Australian

Wedding Ceremony - Japanese

Wedding Ceremony - Jewish

Wedding Ceremony - Military

Catholic Wedding

Can't find what you are looking for? Try our Google Search below:
Don't forget to have your say, visit our Rage Page - Bridal Shower Etiquette

Back to the A - Z Guide.